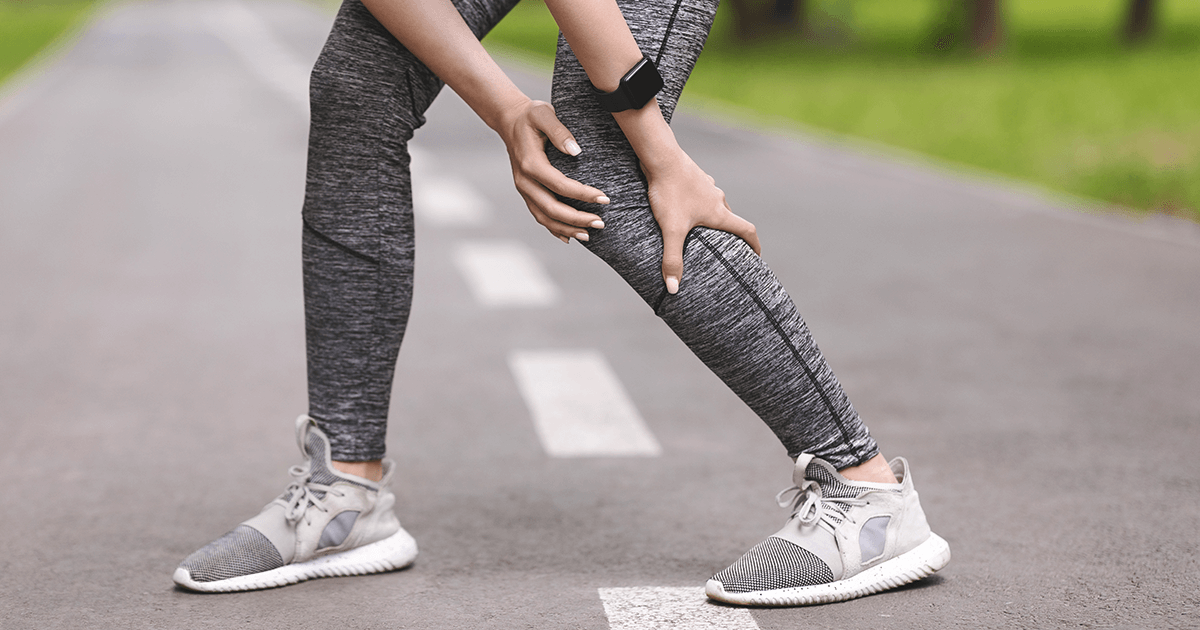 Knee pain affects 25% of American adults, and accounts for almost 4 million doctor visits per year.  Whether acute or chronic, this can dramatically impact the quality of life for those who suffer, often significantly reducing their mobility. Since research shows that movement is directly linked to increased longevity, it is important to address this concern. This article will describe common causes of knee joint pain and available treatments to get you moving once again.
What Causes Knee Pain?
Knee pain may appear suddenly after a traumatic impact like a fall, car accident, or sports injury. This is often associated with strains of the muscles that support the knee, for example the hamstrings and quadriceps. Within the joint itself, there may be sprains or damage such as ligament tears, bursitis, or kneecap dislocation. These frequently lead to knee instability and sharp pain.
More chronic pain may be due to inflammation from arthritis. Both osteoarthritis and rheumatoid arthritis create swelling in the joints. Movement may be stiff, tender, or achy. Over time, the cartilage and bone structures are broken down. Once degraded, it can be very painful to move the knee.
Other causes of chronic knee pain include:
Overuse injuries
Obesity
Gout
Infections
Iliotibial Band Syndrome
Muscle weakness
If you are unsure about the cause of your pain, a doctor will complete an exam and order an x-ray or MRI. However, you may need relief sooner. Two of the most popular ways to abate symptoms are with knee supports and topical analgesics. 
Treatments for Knee Pain
Whether looking to prevent an injury or trying to recover from one, knee stabilizing devices are very useful. Although they sound the same, knee supports are different from knee braces. Topical pain relief may provide the quickest way to alleviate knee pain because it penetrates into the skin to target the pain. Selecting the right gear is important.
Using Knee Supports
These protective sleeves offer comfortable, moisture-wicking knee support while you engage in physical activity or sports. The compression assists in pain relief by reducing localized swelling while guarding to prevent injury. Supports are designed to fit snug around the knee, and can be found with or without an "open patella" design. This indicates whether a support allows for the patella, or the knee cap, to be uncovered. Most find the open-patella design to be more comfortable for long-term use. Closed patella designs may lead to uncomfortable pressure over the knee cap.

The ProCare Knee Support is an open-patella design, appropriate for the following conditions:
Mild Overuse Injuries
Mild Knee Pain
Tendonitis
Inflamed or Stiff Joints
Prevention of Knee Injuries
Using Knee Braces
These robust devices are typically used when there is an existing injury. They have adjustable options that address multiple knee conditions, although your doctor can help you select the right brace for your needs.

The ProCare Hinged Knee Brace is useful with the following injuries:
Medial / Lateral Instability
ACL / PCL Sprains
Osteoarthritis
Patellofemoral Dysfunction
Patellar Dislocation
In general, supports are sufficient for mild joint pain or injury prevention. Braces are used to stabilize a weakened or harmed knee while protecting from further damage. Supports tend to be used for short duration during an activity, however braces are used throughout the day. Work with a doctor or physical therapist to determine the right device.
Using Topical Pain Relief
Topical analgesics are an effective way to achieve localized knee pain relief.
An instant numbing pain relief gel like numm Cool Freeze is a fast and effective formula that targets pain on the spot. It provides a soothing cool sensation that works on the nerves to reduce pain perception by penetrating and dissolving into the skin. This gel is a great option for:
Muscle and Joint Aches
Arthritis
Bruises
Strains
Sprains
Overuse Injuries
Minor Traumatic Injuries
numm Cool Freeze is an effective gel for the temporary relief of pain in muscles and joints. Apply three to four times daily to numb away pain.

Knee pain is increasing in prevalence across the adult population. Are you one of the millions of people experiencing mild discomfort from knee pain? Consider purchasing a protective knee brace. Recovering from an injury? Use a supportive brace. Having stiffness or swelling? Purchase a topical analgesic cream for relief. There are multiple safe, inexpensive, and effective ways to manage your symptoms. Staying mobile is a crucial part to longevity – don't let some knee pain prevent you from the activities you love.
References:
Bunt CW, Jonas CE, Chang JG. Knee Pain in Adults and Adolescents: The Initial Evaluation. Am Fam Physician. 2018 Nov 1;98(9):576-585. PMID: 30325638.
Goroll, Allan H, and Albert G Mulley. Primary Care Medicine : Office Evaluation and Management of the Adult Patient. Philadelphia, Wolters Kluwer/Lippincott Williams & Wilkins Health, 2014, pp. 1086–1093.
Gremeaux V, Gayda M, et al. Exercise and longevity, Maturitas, Volume 73, Issue 4, 2012, Pages 312-317, ISSN 0378-5122, https://doi.org/10.1016/j.maturitas.2012.09.012.