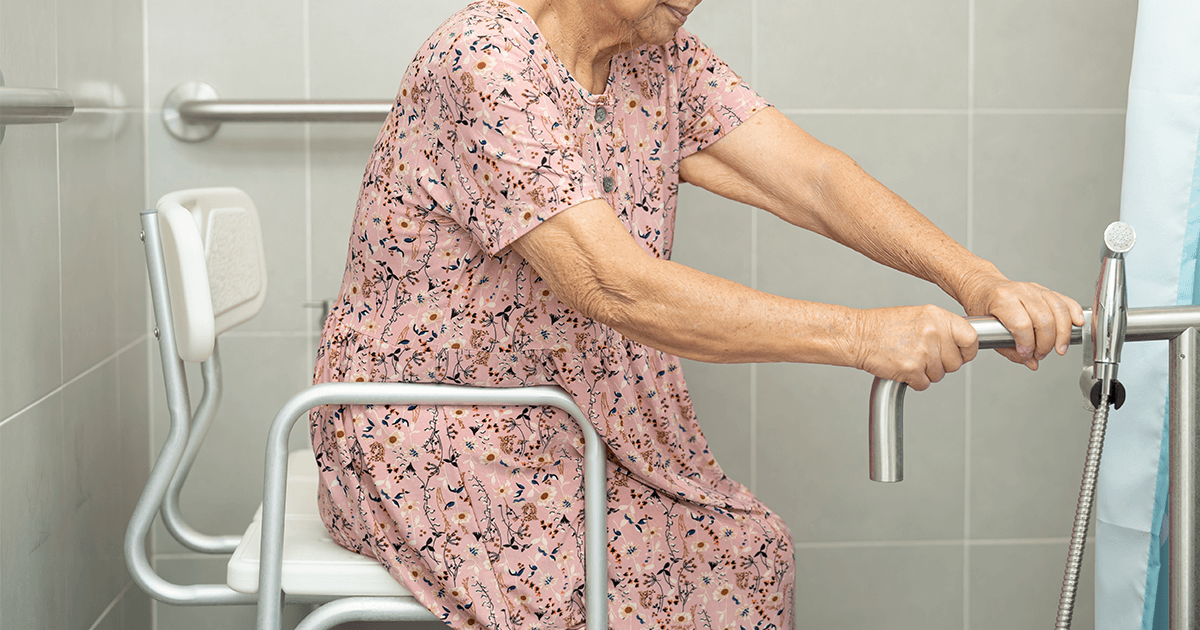 For the elderly and disabled, slips and falls in the home are an everyday risk that can cause serious and lasting harm – even death. In addition, the fear of having a loved one suffer a fall in the bathroom, while performing common and necessary daily tasks, creates constant worry and stress for families and caregivers alike. According to the Center for Disease Control (CDC), these fears are well-founded. The CDC reports that in 2020, falls were responsible for 36,000 deaths in people 65 and older. For the elderly, the bathroom is where serious injury accidents in the home are most likely to happen. Having effective bathroom safety products in the home is vital for ensuring that the elderly and disabled adults have a safe and accessible space for daily bathroom use.

There are several areas of the bathroom where the risk of falling is greater. Studies show that falls most often occur during transfers to and from the shower or when getting on and off the toilet. HonestMed offers a wide range of bathroom safety products that will reduce the risk of injuries and assist the elderly in safely managing important daily bathroom activities, regardless of whether they have a caretaker or they are independent.
Below is a list of ways that can make your bathroom safer and significantly reduce the likelihood that your loved one will experience a fall.

1. Give them the Support They Need
Many bathroom falls occur when transferring elderly or disabled adults in and out of the shower or tub. This is especially dangerous when seniors perform these tasks alone. Most showers and tubs are made from inherently slick materials such as ceramic tiles or fiberglass. The combination of a slippery surface, wet skin and mobility issues can make this simple task particularly dangerous.
✅ Solution: Safety Rails, Grab Bars, Transfer Benches, Shower Chairs
There are a variety of bathroom safety products designed to make showering and bathing easier for aging parents with mobility issues. Safety rails and grab bars are easy to install and will provide seniors and the disabled with secure support as they move in and out of the shower or bath. Chairs and benches designed for use in the shower and bath are another way to lessen the risk of a fall. Seniors can sit on a shower chair or bench while they bathe rather than stand up. For tub use, there are benches specifically designed for easy transfer in and out of the bathtub by fitting over the edge of the tub and having two legs in the tub and two outside on the floor. Suction cups on each leg ensure stability.

2. Elevate the Toilet Seat
Getting on and off the toilet is another daily need that increases the risk of bathroom falls for seniors. For those with mobility or joint issues, the low height of most toilets in homes creates a significant risk. Seniors often fall while trying to maintain balance as they position themselves on and off the toilet.
✅ Solution: Raised Toilet Seats, Toilet Safety Rails
Many bathroom safety products make toilets easier to use and more accessible. One simple solution is to raise the height of the toilet seat so that getting off and on is less of a burden. Raised toilet seats reduce the risk of falls by making it easier for seniors and people with mobility issues to sit down and stand up since they don't have to lower themselves as far. These toilet seat accessories can make a world of difference and are available with or without side bars. Plus, they are easy to install in minutes. Toilet safety rails are another great way to help seniors with stability control when using the restroom. They are strong, durable, and comfortable to use. 


3. Help them Get a Grip
Most bathroom floors are tile or linoleum, which are slippery surfaces especially when wet. The relatively small area in most bathrooms coupled with the amount of moisture generated by showers and faucets mean that bathroom floors and counters can stay wet and slippery for a long time. In addition, soap residue can build up over time and will increase the risk of slipping and falling. Adding rugs over a tile floor can seem like a solution, but it can actually increase the risk that someone will catch the edge of the rug and stumble.
✅ Solution: Keep Walking Surfaces Clean and Dry and Use Anti-Slip Socks
Wipe down surfaces before and after elderly or disabled loved ones use the facilities, and check surfaces for wetness. Clean bathroom surfaces frequently to avoid soap build-up. Add bathroom safety products like non-slip decals and mats to lower the risk of slips and falls. Bathroom rugs are great, as long as they are non-slip, meaning they securely adhere to the floor. 
Pro Tip: Anti-Slip Socks are frequently used during hospital stays because they grip slick surfaces, making it less likely to slip and fall. These socks are made with comfortable terry cloth and feature a treaded sole for increased skid resistance. Grab a few pairs for your loved one!

4. Brighten Up their Space
Seniors may have to get up numerous times during the night to use the bathroom and if the lighting is not adequate, a slip and fall is much more likely to happen.
✅ Solution: Night Lights or Motion Sensitive Lighting
Make sure you have night lights in the bedroom and in any rooms or hallways leading to the bathroom. The bathroom should be well-lit and, if necessary, motion-sensor lights can help ensure the bathroom is safe for aging parents even in the middle of the night. It's also a good idea to get an eye exam at least once a year to keep prescription eyeglasses up to date.

5. Improve Accessibility for Essentials
Seniors are at a high risk of falling when reaching for an item in the bathroom that is out of reach. They often try to stabilize themselves by grabbing hold of an unsecured or inadequately anchored towel rack or by leaning on a hamper that lacks proper weight-bearing capabilities.
✅ Solution: Keep Items Within Reach and Use a Grab Bar
 Putting daily items that your loved one uses at eye-level and in an easy-to-access place lowers the risk of them reaching for something and losing their balance. Make sure there are grab bars or step stools available so seniors or the disabled can have greater access to everyday items.

6. Create a Safe Path
In any room, clutter can be a problem. Because the bathroom is likely the smallest room in the house, towels and other articles left on the floor can create a treacherous obstacle course for the elderly.
✅ Solution: Declutter and Organize the Bathroom
Make sure floors and other surfaces are free from clutter and that access between the bathroom and other rooms is clear and offers safe passage for your loved one. Having organized, accessible places for the everyday items your loved one uses will minimize the strain of dealing with these basic needs for both caretakers and their patients.

HonestMed Is Here to Help
Coping with the everyday bathroom requirements of elderly individuals, disabled loved ones, and patients can be a source of stress for everyone involved. HonestMed strives to make daily life easier for the elderly, caretakers, and those with limited mobility. Our cost-effective bathroom safety products cover a broad spectrum of needs, and will help caregivers and patients achieve a safe and secure bathroom space. Learn more by speaking to an HonestMed Care Specialist at (833) 933-2323. We're here to provide you with product knowledge, support, and expertise to ensure that you get the right products for your unique needs and budget.