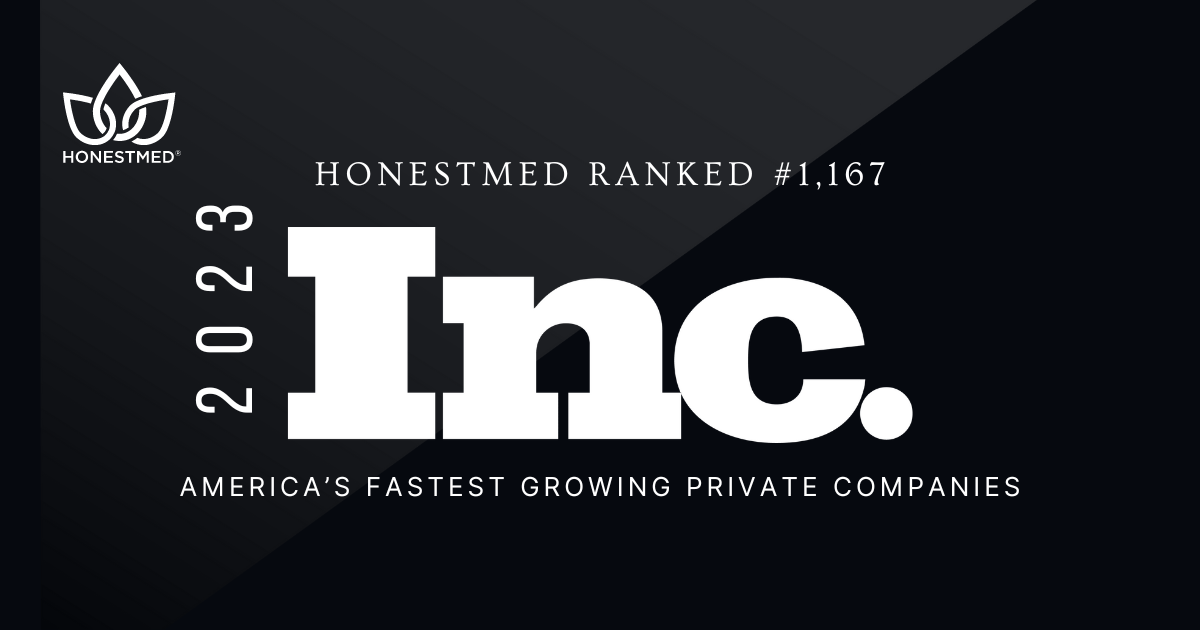 NEW YORK, August 15, 2023 – Inc. revealed today that Honest Medical ranks No. 1167 on the 2023 Inc. 5000, its annual list of the fastest-growing private companies in America. The prestigious ranking provides a data-driven look at the most successful companies within the economy's most dynamic segment—its independent, entrepreneurial businesses. Facebook, Chobani, Under Armour, Microsoft, Patagonia, and many other household name brands gained their first national exposure as honorees on the Inc. 5000 list.
"We are truly honored and excited to be on the Inc. 5000 list of America's fastest growing private companies. Ranking in the top 25% in our first year on the list makes this an even more amazing experience. We couldn't have achieved such incredible growth without our loyal customers, valued partners and without the hard work and dedication of the HonestMed team."

– Mike Greenan, HonestMed Founder and CEO
The Inc. 5000 class of 2023 represents companies that have driven rapid revenue growth while navigating inflationary pressure, the rising costs of capital, and a tight employment market. In all, this year's Inc. 5000 companies have added nearly 1.2 million jobs to the economy over the past three years.
"Running a business has only gotten harder since the end of the pandemic," says Inc. editor-in-chief Scott Omelianuk. "To make the Inc. 5000—with the fast growth that requires—is truly an accomplishment. Inc. is thrilled to honor the companies that are building our future."
HonestMed Combines Technology with Real-World Health Solutions
Online ordering is the new standard for many consumers and businesses searching for quality medical supplies. Greenan started HonestMed to lower the burden of high healthcare costs by offering access to thousands of professional medical supplies and daily health essentials at affordable prices online. Technology is the key catalyst that sparked the idea for the robust in-house data platform built by Greenan and his business partner. This development allowed HonestMed to hit the ground running with lightning-fast shipping and low prices that so many consumers still depend on today.
"The incredible growth we have seen since the beginning, shows our efforts have not been in vain. Although inflation has been hard on all companies, we have continued to strive to offer the best health and wellness products at the lowest prices. Our customers have rewarded us with their loyalty. Making sure our customers have access to a wide range of critical products at affordable pricing, and fulfilling orders with care and efficiency continues to be HonestMed's primary focus," Greenan added.
More about Inc. and the Inc. 5000
Methodology
Companies on the 2023 Inc. 5000 are ranked according to percentage revenue growth from 2019 to 2022. To qualify, companies must have been founded and generating revenue by March 31, 2019. They must be U.S.-based, privately held, for-profit, and independent—not subsidiaries or divisions of other companies—as of December 31, 2022. (Since then, some on the list may have gone public or been acquired.) The minimum revenue required for 2019 is $100,000; the minimum for 2022 is $2 million. As always,Inc. reserves the right to decline applicants for subjective reasons. Growth rates used to determine company rankings were calculated to four decimal places.
HonestMed Is Here for You
We're here with product knowledge, support, and expertise to ensure you get the right products for your unique needs. Contact us online or call an HonestMed Care Specialist at (833) 933-2323 if you have any questions. Check out our other published articles on caregiving and catch up on company announcements and updates.