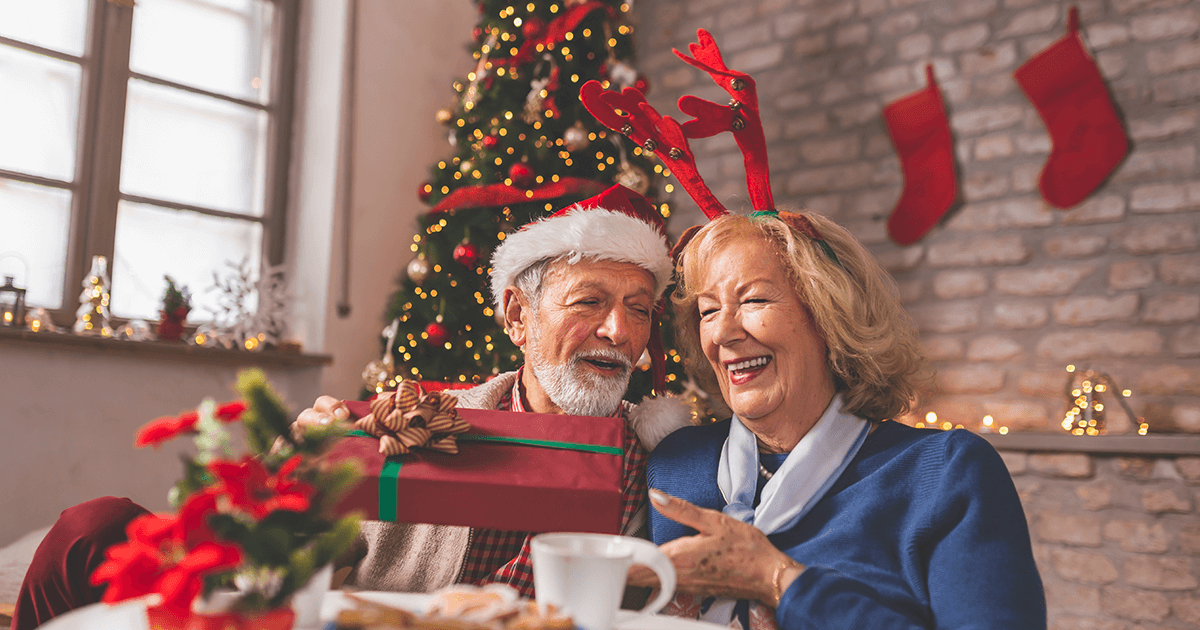 The Holiday Season is upon us bringing familiar songs, family gatherings and best of all, gifts! Finding the perfect gift for the loved ones in our lives is a tradition we all treasure, but choosing gifts for elderly loved ones can sometimes be a major challenge. Many seniors are not only very particular, they have often accumulated more possessions than they know what to do with. Even if your aging parents or grandparents insist they don't want or need anything – there are still gifts for the elderly that can make them feel special without burdening them with things they don't need.
The key is to focus on gifts that are practical and functional. Many seniors face challenges with health– finding an item that makes performing daily tasks easier and increases their enjoyment of life can be truly meaningful. Gifts for elderly loved ones that improve their health and safety can also add to your peace of mind.

To help you in your search, we've compiled a list of useful holiday gifts for your elderly loved ones – gifts they will value and appreciate for years to come.
Overview:
Gift Ideas with a Purpose
Soothe Arthritic Hands with Compression Arthritis Gloves

The colder weather of the Holiday Season often increases the pain of arthritis, especially in elderly hands where circulation has slowed. Compression arthritis gloves help relieve pain and stiffness that comes with arthritis of the hands and are a welcoming gift for elderly loved ones. The IMAK Compression Arthritis Gloves were designed by an orthopedic surgeon to offer gentle compression that warms arthritic hands and aids circulation, which can reduce arthritic pain and swelling. The fingertips are open, allowing the wearer to perform daily tasks while wearing the gloves. If you have aging parents or other senior loved ones with arthritic hands, these comfortable, stylish gloves are a perfect choice.
Step Up Their Independence with a Stepping Stool

Another great gift for elderly loved ones that will make their lives easier at home is a stepping stool. As people age, their balance and flexibility decline. Simple tasks such as reaching for items on a shelf or even getting into a high adjustable bed can be difficult and potentially dangerous. In fact, falls are one of the most common causes of elder injury, with the CDC reporting that 95% of hip fractures are due to falls. The North American Health and Wellness Step Stool provides sturdy support to aid seniors in daily tasks around the house. It offers durable and lightweight plastic construction that folds easily for storage and locks firmly into place when opened. Ridged treads on the footpad ensure steady footing. Give a gift for elderly loved ones or aging parents that will provide the practical help they need and give you peace of mind.
Keep Heart Health In Check with a Blood Pressure Monitor

Hypertension, or high blood pressure, is a common condition that affects as much as 70% of the population 65 and older, according to the CDC, yet only 48% of hypertension sufferers check their blood pressure on a regular basis. An accurate and easy-to-use blood pressure monitor can be an important and thoughtful gift for elderly loved ones suffering from hypertension. The Omron 5 Series Blood Pressure Monitor is built on advanced technology that delivers unparalleled accuracy supported by five times more data points, ensuring precise and consistent readings. Plus, it's easy to use, with a design that minimizes the errors breathing and movement can cause. The Omron 5 Series BP Monitor is a meaningful gift for elderly loved ones that will enhance their continued health and vitality by simplifying the task of taking accurate blood pressure readings at home.
Add More Personal Storage Space with a Walker Carry Pouch

As many caretakers and those with elderly parents know, a walker is an indispensable aid in getting around for many seniors, but keeping small items handy while using a walker is next to impossible. The Guardian Walker Carry Pouch/Tote is a wonderful convenience to add to any walker. This gift for elderly loved ones will allow them to have easy access to the numerous items they may need as they move about during the day. The roomy fabric pouch fits most walkers and is designed to attach easily to the front of the walker held by four sturdy straps. The Guardian Walker Pouch is a practical gift you know your loved one will appreciate.

Provide More Safety during Bath Time with a Bath Bench

Many caregivers and those with elderly loved ones know the hazards associated with bath time. A Holiday gift for elderly or aging parents that can help put your mind at ease is a McKesson Aluminum Bath Bench. This ergonomically-designed, adjustable bench provides a curved seat and drainage holes to reduce the risk of slipping while in the shower. The built-in handles and adjustable height, which clicks into place easily, ensures comfortable seating, while the lightweight frame and angled legs with non-skid tips provide unmatched stability. The bench features non-slip seating with a textured surface, and it's easy to clean because it has holes that prevent water from collecting on the seat. The McKesson Bath Bench will provide years of service and it's a welcoming gift that shows how much you care.
Make Daily Dressing Easier with Adaptive Clothing

As caregivers know, clothing designed for the general population is often difficult for the elderly to negotiate easily. To find a gift for elderly loved ones that is both practical and attractive, check out adaptive clothing, which is clothing designed specifically for use by the elderly or others with special needs. Silverts provides clothing and accessories that are easy to get in and out of with adaptive features that both caregivers and their patients will love.
Feed Their Love for Books
Are your senior loved ones or aging parents losing their love for reading because of failing eyesight? Many of today's books have very small print making them difficult for seniors to read – even with glasses. Large print books are a gift for elderly loved ones that can help them regain their interest in reading. Many publishers are aware of the need to augment their standard book offerings by publishing large print editions of popular titles. Online resources such as Amazon and Barnes and Noble offer numerous large-print books by both current and classic authors. Check out your options by visiting your favorite bookseller and find the perfect gift for the elderly loved ones in your life.
Give a Gift Card
When all else fails, you can't go wrong with a gift card. If you know a specific retailer that the intended recipient frequents, a gift card from that store or online merchant would be a welcome gift for elderly friends or relatives. Gift cards are readily available from almost all retailers and service providers both online or onsite. If you aren't sure of which merchant to use, you can always give a gift card from Visa or Mastercard – they are available at a variety of your local chain stores.
Although this is not an exhaustive list, it gives you some ideas for where to look for holiday gifts for your elderly loved one. By keeping it practical and functional – you'll know they have a gift that demonstrates your love for them, and one both your loved ones and their valued caretakers will appreciate and use.
Other Ideas
Weighted Blanket
Memory Foam Pillow
Window Bird Feeder
Aromatherapy and Essential Oils
Eyeglasses Holder
Wine
Gardening Tools
Kitchenware
Massage Therapy Devices